Elvis Presley Photos: Gladys, Vernon & Elvis Presley

Gladys Presley with Elvis.

Gladys Presley's Parents - Bob and Doll Smith - Day of Wedding September 19, 1903.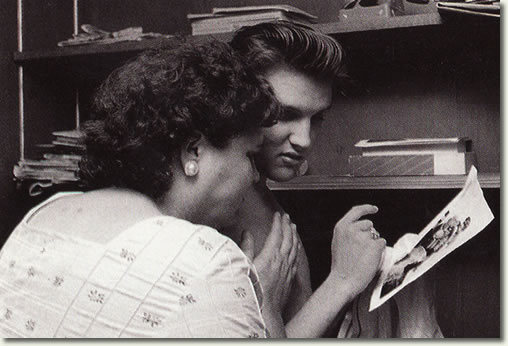 Elvis with his Mother : Memphis - 1034 Audubon Drive - July 4, 1956.

Elvis with his Mother : Memphis : 1034 Audubon Drive - July 4, 1956.

Vernon, Elvis and Gladys Presley Tupelo Mississippi.

Vernon, Elvis & Gladys Presley March 24, 1958.

Vernon, Elvis & Gladys Presley March 24, 1958.
Elvis, kisses his mother goodbye before reporting to the Memphis Draft Board,where he and twelve other recruits are inducted into the US Army. Elvis was assigned army serial number 53 310 761.
Flanked by his parents, Gladys & Vernon, Elvis Presley reported for Army duty to the Draft Board office in the M &M Building at 198 South Main about 6:30 a.m. March 24, 1958. After undergoing processing and a physical at Kennedy Veterans Hospital, he and other inductees would board a bus for Fort Chaffee, Arkansas later that afternoon. By the 28th, Elvis arrived at Fort Hood, Texas where he would undergo six months training before shipping off to Germany. His mother would die before he completed training.
Gladys Presleys Coffin Forest Hills Cemetery August 1958

Gladys Presleys Coffin Forest Hills Cemetery August 1958.

Elvis at Forrest Hill visiting Gladys grave.

Vernon visiting Elvis on family day at Fort Hood.
Above, Vernon Presley places a rose on his son's grave Nov. 24, 1977, as news people were permitted inside the grounds at Graceland in Memphis, Tenn., for the first time since Elvis' funeral.
More information on Elvis, Vernon and Gladys


Gladys and Vernon Presley



Vernon, Gladys and Elvis 1935-1953
- There are some photos of Gladys on the page -


Elvis Presley with Yvonne Lime April 19, 1957
Elvis and Gladys, one of the best researched and most acclaimed books on Elvis' early life, reconstructs the extraordinary role Gladys played in her son's formative years. Uncovering facts not seen by other biographers, Elvis and Gladys reconstructs for the first time the history of the mother and son's devoted relationship and reveals new information about Elvis--his Cherokee ancestry, his boyhood obsession with comic books, and his early compulsion to rescue his family from poverty. Coming to life in the compelling narrative is the poignant story of a unique boy and the maternal tie that bound him. It is at once an intimate psychological portrait of a tragic relationship and a mesmerizing tale of the early years of an international idol.
In The Shadow Of A Legend - Elvis' Parents Vernon & Gladys Presley CD gives an unique insight into the private life of Elvis Presley, and makes for some fascinating listening for any Elvis fan. Packaged in a full-colour digipack with several rare photos of Elvis and his parents, including a very touching one of him on stage in 1977, holding and studying the well-known 1937 family-photo of a two-year old Elvis with his parents; it's almost as if the photo momentarily transports him back to his early years.

Never before have we seen an Elvis Presley concert from the 1950's with sound. Until Now! The DVD Contains recently discovered unreleased film of Elvis performing 6 songs, including Heartbreak Hotel and Don't Be Cruel, live in Tupelo Mississippi 1956. Included we see a live performance of the elusive Long Tall Sally seen here for the first time ever. + Plus Bonus DVD Audio.
This is an excellent release no fan should be without it.
The 'parade' footage is good to see as it puts you in the right context with color and b&w footage. The interviews of Elvis' Parents are well worth hearing too. The afternoon show footage is wonderful and electrifying : Here is Elvis in his prime rocking and rolling in front of 11.000 people. Highly recommended.
Tupelo's Own Elvis Presley DVD Video with Sound.